BIG BAG FOR THE ECOLOGY SECTOR
The containers used by ecological and construction operators for the disposal of hazardous or toxic waste and for the disposal of asbestos must be endowed with particular resistance in order to guarantee total safety in order to preserve the environment during the disposal phase. transport in the appropriate landfills.

The big bags suitable for the disposal of special waste and asbestos follow the adr regulations and are subject to approval.

The dimensions and types, with related approvals for this sector, are listed below:
Big tubular bag dimensions: 90x90x120 cm
Big bag u-panel: 110x110x130 cm
Big bag "plate" for asbestos sheets: 110x320x50 cm, 110x250x50 cm
Top: candy
Bottom: closed bottom
Swl: 500 kg, 1000 kg, 1500 kg
Sf: 6: 1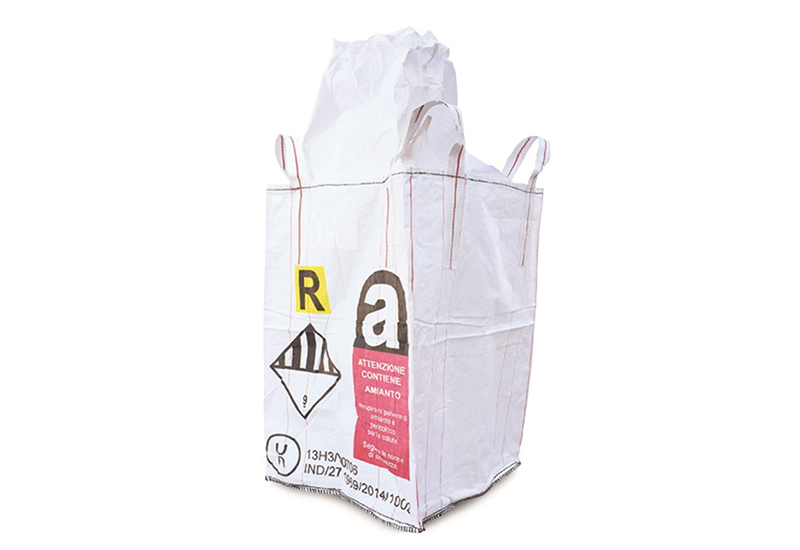 Approvals and characteristics:
UN 13H1Y: non-laminated polypropylene
UN 13H2Y: laminated polypropylene
UN 13H3Y: non-laminated polypropylene, internal liner
UN 13H4Y: laminated polypropylene, internal liner, anti-dust seams

Other certifications possible on specific request

PRINTING AND LABEL: black "R" print in yellow box, ADR symbol, approval code, "A" label contains removable asbestos). The print and the label are placed on two opposite sides.
Are you interested in our products?
A wide choice in flexible packaging, contact us to request detailed information on a specific product or for your needs, we will try to answer you as soon as possible.